If you answered no, the time is NOW to evaluate your digital mortgage strategy
Mortgage lending in all its complexity is a leading driver of the U.S. economy.  Each channel – Retail, Wholesale, Correspondent and Consumer Direct – are instrumental pieces of the puzzle required for the future stability in the U.S. housing market. However, depending on your role in the industry, you may perceive the elasticity in the market differently.
With 2017 in the rearview mirror and the busy lending season of spring and summer rapidly approaching, mortgage lenders of all sizes and the production channels they manage are planning and executing their next moves for stability, while taking into consideration that operational structure has changed. For those that haven't already, it is time to shift gears and consider new and emerging technology and channels for production with the potential crossroads facing today's lender.
Leveraging Digital Mortgage Technology is Essential
Since retail origination typically has the most fixed costs out of production channels while typically producing the greatest profit per loan, hiring more retail loan officers doesn't always mean good times ahead. Lenders need to know their capacity and break- even point for every channel they pursue. Among those strategies is planning on how to acquire future production that may include opening a new wholesale or consumer direct channel and or embrace innovation from the outside and leverage digital mortgage technology.
When it comes to digital mortgage, it is not a question of if lenders will automate, but rather to what extent they will adopt and implement. Fortunately, the technologies that were once only available for large lenders with deep resources are now starting to become available to smaller lenders. More importantly, the focus has turned to the selection of the right technology service, digital mortgage strategy, and how to remain competitive.
Embracing Evolution
Digital processes have evolved and are rapidly being adopted by mortgage stakeholders—including the front-end borrower experience (phase I) and now the digitalization of the closing process and the creation of an eNote (phase II). Digital mortgage provides an improved customer experience, operational efficiencies, process improvements and enhanced compliance, and better execution of the asset into the secondary market.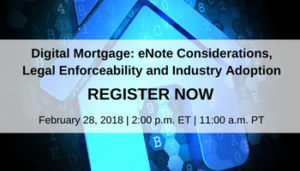 The benefits of shifting from paper are immense with technology focusing on speed, accuracy, data quality, and of course transparency that is pivotal to winning the business and driving down costs for origination channels. This next phase of technology evolution in mortgage production is much about the demand for transparent creation, execution, tracking and delivery of the asset.
As digital continues to improve mortgage processes, participants in the ecosystem need to develop a clear understanding of the key components and the importance of the eNote. On February 28, eOriginal's general manager of digital mortgage, Simon Moir, will be joined by industry experts from MERS, Fannie Mae, and DLA Piper for a live webinar titled, Digital Mortgage: eNote Considerations, Legal Enforceability and Industry Adoption. Whether you have made the leap to digital, are in the process, or are just starting to evaluate your digital strategy, this is a must-attend event. Please click here to register.