While preparing for the Auto Finance Summit, I've been pleasantly surprised by how the industry is embracing eContracting. The consensus seems to be (and I agree) that, between customer expectations for seamless online interactions and post-origination and capital needs, the advantage of digital transaction management (DTM) is clear.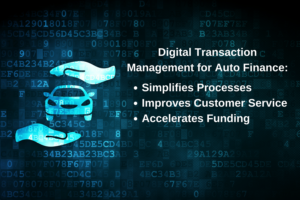 There remain objections to the perceived time, effort and cost for a DTM implementation. A recent blog from defi SOLUTIONS puts it well, empathizing with those for whom the "duct tape" of their old technology is too scary to approach based on fear of what will happen when you get underneath the patches. Or perhaps you're one of those businesses that believes the ROI you'll experience will come too late for your finance folks to sign-off on the investment.
Here are three additional erroneous obstacles I hear quoted all the time and the corresponding facts to overcome them:
Our Users Won't Adopt It Easily
One of the biggest barriers teams face is the "this is the way it's always been done and it's undeniably flawed but comfortable" scenario. Today's DTM solutions are designed to be easy to train on and easier to use, with built-in error control that will help users feel less exposed to the risks of a big, costly mistake. In fact, eOriginal customer Westlake Financial Services recently said their "simplified process typically results in better customer service, fewer missing documents and faster funding." Your origination staff will quickly realize that what might seem to be a "pain" at first actually protects them, their customers and their transactions.
The Implementation Will Cost Us Time and Money We Don't Have
As I discussed in a recent webinar, this argument doesn't hold water when you consider that the paper process during a transaction… (leads to) up to three percent of all loans initiated (not getting) booked. That's much more money left on the table than the cost of a new technology that delivers both more efficient and streamlined processes and enhanced access to capital markets. In fact, our friends at Westlake were able to complete their implementation two months earlier than they had planned, resulting in even faster ROI.
We Are Already Good (or Great) at What We Do
This is my favorite argument to refute and here's why: When I visit with people at conferences and talk to clients or prospective clients, they're understandably proud of their staff; their customer service; and the way they're growing their business in what is sometimes a tough, tough market. When they tell me they're doing just great, thank you very much, I respond, "What would it look like if you could double your revenue through efficiencies and faster funding?" or "What would happen if investors saw that your post-origination practices were airtight, compliant and virtually risk-free from a legal and regulatory perspective?" Additionally, I ask the hypotheticals: If investment flow tightens and tighter scrutiny is imposed, would you continue to have access to capital? Or, with an ever faster changing industry, are you positioned to adapt and keep up?
I then share stories like Westlake's or JD Byrider's and we are able to nail down budgets and timeframes much easier than they thought we could, based on our team's expertise about what's needed to get DTM up and running and (most importantly) delivering value quickly.
Join Us at the 2017 Auto Finance Summit in Las Vegas
If you have any additional objections, I urge you to visit us at the upcoming Auto Finance Summit on October 25 to 27 in Las Vegas. We will listen respectfully and then, hopefully, show you how we can overcome these challenges to our mutual benefit. See you there!
Make an appointment to meet with eOriginal at the Summit and be sure to stop by our booth to say hello.