With more than 30 years of financial experience, including 10 in government finance, Nexsys Technologies® Executive Vice President Mike Lyon is a mortgage industry veteran who's witnessed decades of evolution and innovation. Recently, he shared his thoughts with us on how COVID-19 has heightened demand for Remote Online Notarization (RON), and what trends could revolutionize the digital mortgage industry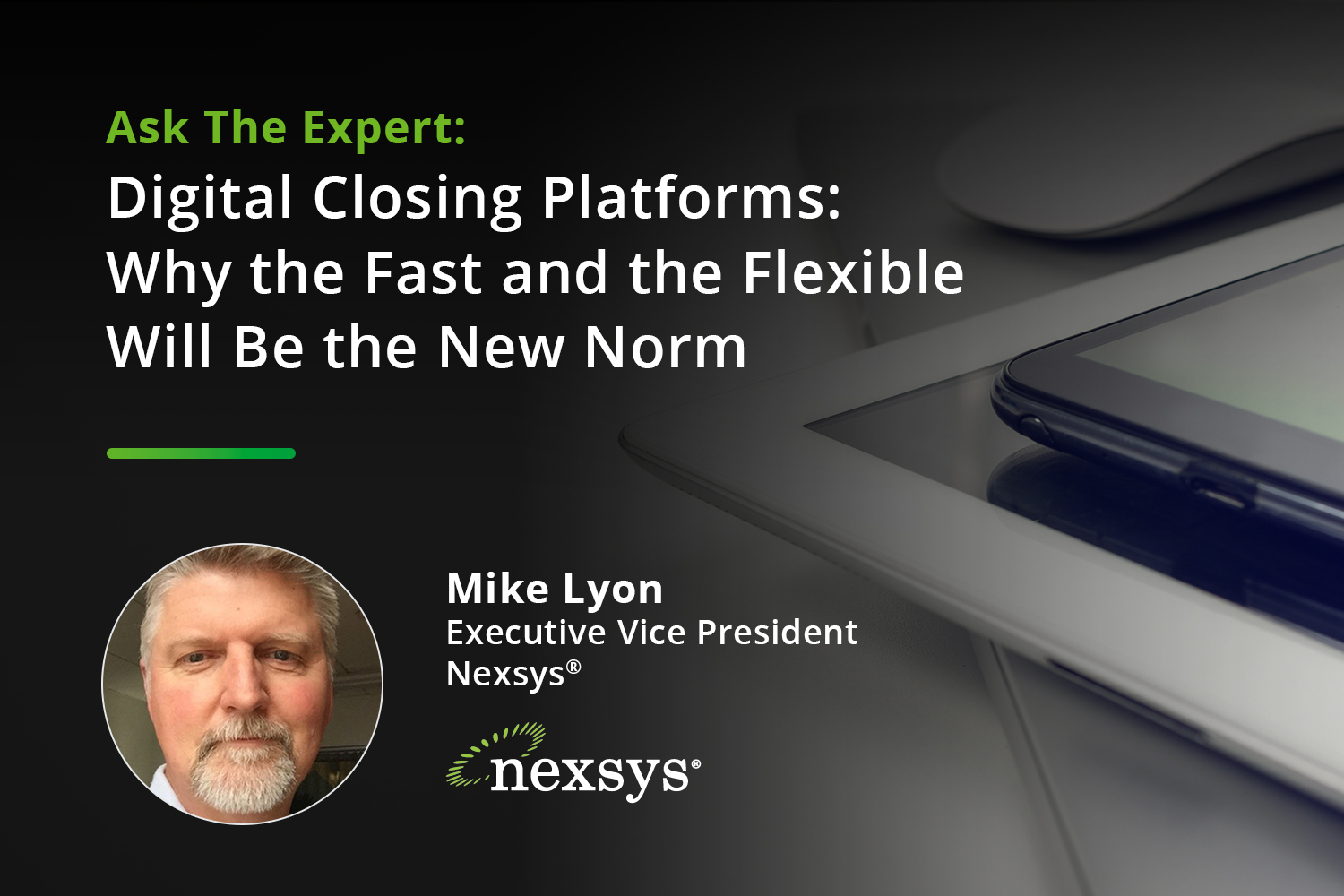 eO : Will COVID-19 fundamentally shift how buyers choose where to live and how they purchase homes? 
ML: Prior to the pandemic, we had 60 team members under the Nexsys Technologies umbrella – 55 of us worked in downtown Detroit, and the others worked remotely. But since March, our entire team has been working from home. When COVID-19 forced us to reimagine flexibility in the location of our workforce, we found that business success isn't always determined by where the team is sitting. Many corporations are going to realize – if they haven't already – both the positive and negative aspects of this shift. They'll have worldwide access to talent, but they're going to have to be a lot more flexible. The most progressive companies are going to allow their teams to work from anywhere, which will make suburbs an increasingly viable and popular residential option. So yes, COVID-19 is going to fundamentally shift how and where people decide to purchase homes.
eO: How has the pandemic shifted the business models and core functions of notaries?
ML: From an industry standpoint, we've pushed forward five years in five months.
The biggest shift has been in RONs, where signers and notaries digitally sign documents from separate locations. Lenders – like other business decision makers – have wants, needs and aspirations. The idea that a notary could sit in one spot and a client in another while everything is handled digitally over the internet – that was an aspiration, something that would make you one of the "cool kids." Before the pandemic, they looked at RON and said,  "Okay, that's the future, but it's not necessary." Almost overnight, the aspiration became a necessity.
From a notary perspective, 99 out of 100 notaries were still doing face-to-face notarizations with clients before March 2020. Even if they were digitally signing other documents, they would still be wet signing the notarized documents. But then the pandemic hit, and we realized we were going need an option to maintain social distancing. The shift for the notaries has been transformational, too. I think two years down the road, RON will be the norm and wet-signed documents will be the exception.
eO: What legislative regulatory hurdles or issues are inhibiting RON from being completed seamlessly across jurisdictions and states?
ML: Some regulatory bodies are moving faster than others. Prior to the pandemic, we had 23 states with regulations that allowed for RON. Since then, that number has ticked up significantly. Some states have put in interim regulations, and we've pivoted to accommodate them. But for the most part, 90% of state regulations are consistent and are based off Mortgage Industry Standards Maintenance Organization (MISMO®) guidelines. They require the same process for key business attributes and ID verification.
The other 10% of the states are, let's say, a "flexibility challenge" for digital signing platforms. That makes it difficult for platform compliance. Across various states, there will be differences that a provider has to accommodate to make sure that notarial signatures and notarial stamps are applicable and legal. That's just one piece of the puzzle. Once you're set up to be state compliant, your platform has to work with Government Sponsored Enterprises (GSEs), lenders and title underwriters.
And we haven't even talked about the 3,000 counties – meaning 3,000 separate jurisdictions – that your platform has to accommodate. You often run into things on local levels that block digital processes. Some counties have digital recording, but many others don't. Even if the state says the county has to accept a paper copy of a digitally signed document, you may run into a local official that says, "I don't care, I'm still not going to do it." Before the pandemic hit, one of our industry focuses was to support legislation that standardized and broadly enabled RON. Now, more than ever, we need this type of federal legislation to keep the industry future focused, information secure, and everyone in the process safe.
eO: Where do you see "remote ink-signed notarization" in this maturity spectrum for title settlement agents and lenders?
ML: If I told you title underwriters and lenders absolutely hate this process, it wouldn't be an exaggeration.  In remote ink-signed notarizations, the notary sits in one spot, the client in another, and they use conference software like Microsoft Teams or Zoom to communicate. The notary will visually look at the client's ID and they'll witness the client wet signing the document. Then the client will fax the document over to the notary. That, in theory, is a remote ink-signed notarization. As you can imagine, there isn't a whole lot of security in that flow. It was a stop-gap plan that was put in play during the pandemic – it's not a sustainable or long-term solution.
eO: What are the key considerations lenders should evaluate when they're considering alternative solutions for RON?
ML: There are a couple of things that come to mind. First, there's the price component and what that price point actually covers. This market is very new, so there's no consistency. Some platforms are priced based on the closing session, regardless of the number of notarizations, others are priced based on the number of notarizations actually occurring.
You also need to look into convenience – does the platform allow for all types of signing and participants? Does it allow for a witness to be present? Does it accommodate everyone in the signing? How easy is the platform to use? Is it relatively intuitive for the notary and client to get through? Notaries are used to handling a wet-signed closing package, as are the closing agents. Does the digital package that's put in front of the client look or feel familiar to them? There are a lot of moving parts in a RON process, and you need to consider all of them.
Solution stability is critical, too. It's not just about having the notary in one place and the client in the other, then connecting them through basic meeting software. Behind the scenes, a digital signing platform is like the world's best bouncer. It's more than just a password entry login system, it's a gatekeeper. It has to vet the notary and verify the client's identity appropriately (typically through a state-issued ID). It also has to ensure all documents are in the right format and that the information is added in the correct areas. Then, it checks the information against the data in public records.
Not only that, it captures the conversation between the notary and client, creating a visual and audio record of the process. A lot of technology goes into this, so a RON platform has to be completely stable and dependable while running at an optimum pace.
Lastly, I think lenders also need to take a good look at how their options work with partners within the flow. Can the platforms integrate with multiple vaults? Can they handle a variety of digital documents? Can they digitize documents or accept them from another digital document provider? That's where we are today. There's no consistent language across the industry, so you have to ensure that your platform "speaks different languages," for lack of a better term.
eO: What's your point of view on connectivity and integration across the value chain for digital mortgages and closings?
ML: Our thought process has migrated a bit over the course of the last six months or so because of the shift in demand, particularly from lenders. Prior to the pandemic, our focus was on strategic initiatives with partners. We're partnered with big entities like Quicken Loans, Fannie Mae and Freddie Mac. We also knew that eOriginal is a solid bet, so we wanted to integrate and be able to vault with you.
But we realized that the title underwriting and closing agent sides were more receptive to handling digital transactions than the lenders were. So, we essentially selected partners who we thought would be able to reach out to lenders. Then, when the lenders are ready, we'll already be in that ecosystem and be part of their process, so we'll naturally start to get volume.
eO: Looking at the next two to five years, do you see any trends that could revolutionize the digital mortgage industry for borrowers, lenders, and closing agents?
ML: I think we're finally paying attention to the end-of-loan lifecycle. In the past, mortgages were really focused on the front-end application process, and most lenders today have adopted something similar to that structure. If a lender said, "We're a digital mortgage lender," what they were really focusing on is the front-end application process.
But no one was paying attention to the closing side. We've had fits and starts in the process – and what's crazy is that electronic signing has been around since 2000. It's not like we suddenly came up with this in 2020 – it's been around for a long time, but the industry has been very slow to move.  It's exciting that we're finally getting there. We're finally going to make this a seamless, fully digital process!
We'll also examine what other pieces of the lending puzzle can be digitized and condensed into a process that's truly easy for a borrower. From a client efficiency standpoint, it's a really big deal. For example, we currently have a tremendous volume of transactions going through the mortgage industry. That's why it takes 45 to 60 days to close an "easy" refinance transaction. But, if you look at what goes into those 60 days, it probably boils down to 60 minutes of actual work. So, how do we eliminate the other 59 days and 23 hours to make this process as efficient as it possibly can be? Is it through digitization?
On the lending industry side, it means we don't miss signatures. It might seem odd – how could a notary possibly miss a signature? But you've got to understand that there are about 100-130 pages in a typical closing package, and 80 signatures in total. If the notary misses one signature, it could cause a disbursement delay, which results in a quality control issue on the back end. That leads to a lot of inefficiencies. Well, in a digital closing, there's no need to check for signatures because the system won't allow you to proceed without all of them being in place. Imagine the efficiencies you're creating because you won't have disbursement delays.
And in the title industry, it's a huge, huge win. Conservatively, a completely digital closing reduces the amount of time at the (virtual) closing table by half. The closing package audit process is significantly reduced. Follow-up with clients to correct errors disappears, so you save time and maintain an excellent client experience. Plus, you're not wasting time and money shipping documents – they're automatically sent and received.
RON closings are easy for the client, the notary, the lender and the closing agent. It's critical technology that has helped keep clients and notaries safe throughout the pandemic and will help keep the industry rolling full speed into the future. That's technology that you can (literally) bank on!