A product expert with over 30 years of experience building business and consumer solutions, Kevin Wilzbach is a veteran technologist.
As Vice President of Product Management at eOriginal, Kevin listens to both customers and the market, and has a keen sense of the challenges facing the mortgage industry.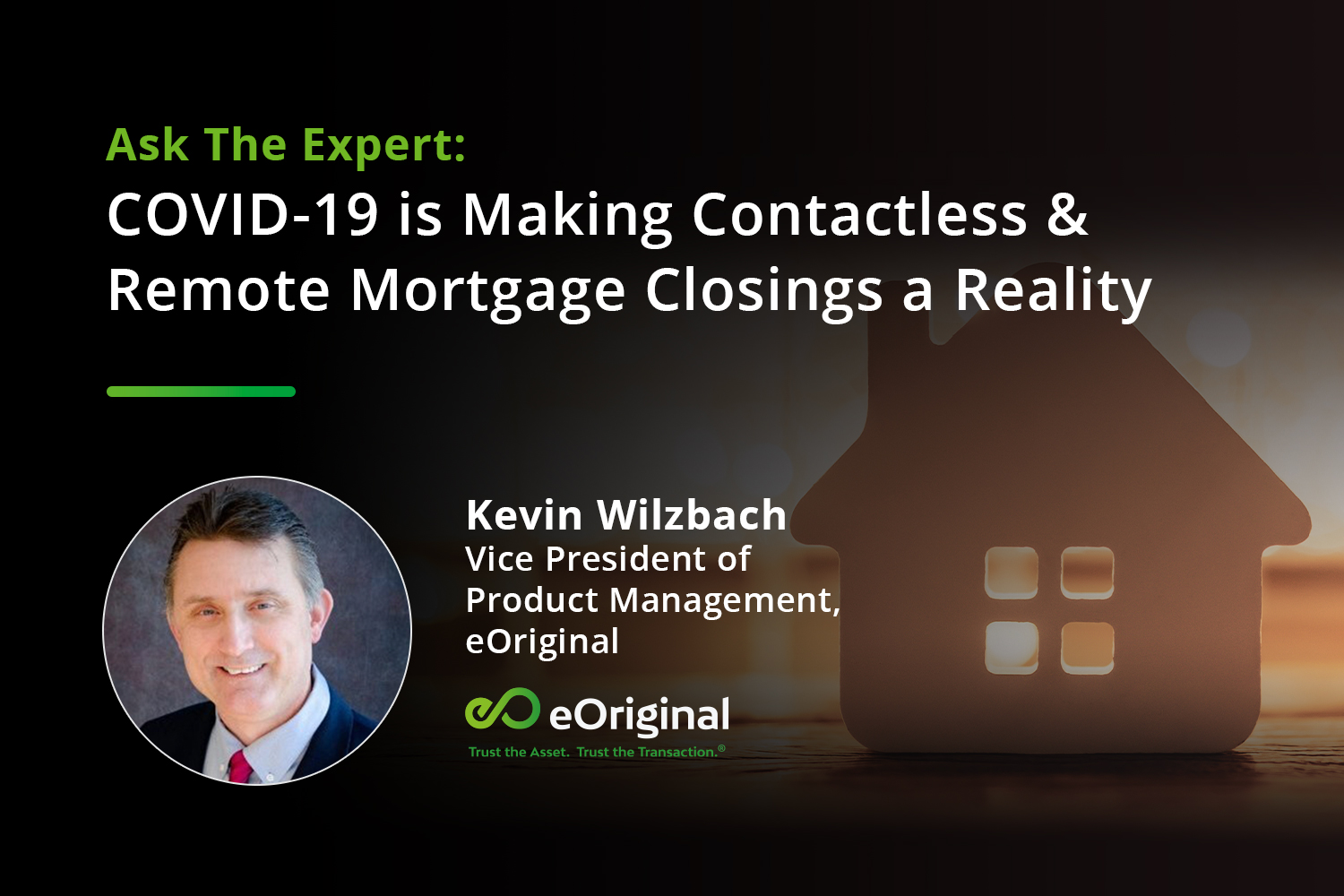 We spoke with Kevin to discuss how COVID-19 has accelerated digital technology adoption and separates fact from fiction on contactless and remote closing solutions.
eO: What is your perspective on mortgage lenders' closing and post-closing technology adoption?
KW: While digital mortgage technologies like eSignature, eNotes, and eVaulting, have been around for several years, many mortgage lenders did not see a compelling business case for digitizing complex analog closing and post-closing business processes. This is not a technology problem.  The technology is there.  It's about delivering on a solution that can satisfy a fragmented transaction comprised of numerous participants.
Faced with a fragmented transaction and technology ecosystem and highly regulated business processes, digital closing solutions did not deliver sufficient value to justify adoption.  For some lenders, that was the general perception coming into 2020.
 eO: Why is fragmentation such a barrier to adoption?
KW: In a mortgage closing, there are numerous systems and stakeholders – borrower(s), lender, settlement agent – and several delivery use-cases. There are also many closing environments that include remote or in-person, and various closing package types that can be delivered in each of these scenarios.
Multiple participants, numerous systems like the lender loan origination system (LOS), document preparation providers, and title production systems (TPS) used by settlement agents, as well as various use cases in terms of delivery of final closing results in a dynamic and complex set of variables in a typical mortgage transaction.
So when a solution is able to automate the optimal closing scenario for every mortgage transaction, I predict we'll see accelerated digital adoption, because the solution and the technology it relies upon is intelligently resolving a complex business pain point.
eO: COVID has been a truly disruptive force for the mortgage industry. How is technology responding to evolving market demands?
KW: Delivering on the promise of contactless and remote digital closings has proven to be challenging.
Beyond technical functionality, there are legal and compliance barriers to delivering fully digital closing experiences. If states haven't implemented electronic recording of title and deeds, then you can be ready to deliver them, only to find out that the receiving entity isn't ready to accept electronic recordings.
That being said, remote online notarization (RON) provides a clear value in a post COVID market environment. While the technology has been around, it's now gaining meaningful traction. However, because RON is only one part of a long value chain, it can't be adopted as a stand-alone solution.
To function properly, RON platforms must be integrated with both upstream and downstream providers. At eOriginal, ClosingCenter delivers centralized Pre-Closing, eClosing Room, and eVault tools with pre-built integrations with RON providers, offering lenders a single platform for all closing scenarios: paper, hybrid and fully remote digital.
eO: Technology integration seems to be a significant variable in the digital adoption equation.  Can you share your opinion on open versus closed platform strategies?
KW: I believe an open platform is critical to success. Some systems try to deliver a complete closing solution – typically a joint solution or something entirely self-contained. However, they often struggle to gain meaningful market adoption because they demand an "all or nothing" approach.
In this fragmented space, we must understand the importance of "numerous stakeholders". This means multiple ways of looking at the solution. And instead of engaging them in the closing process, you're dictating that there's a specific way to do this, to successfully close on your platform. And that's really the wrong way.
In mortgage, success is based on the ability of your solution to interact with other applications brought to the table by other participants.
At eOriginal, we've taken a different approach. We've started with the premise that this is a very diverse ecosystem, and because it's so diverse, the way to garner adoption is to leverage existing workflows and systems that various participants use, integrate them into your systems and processes, thereby engaging them in ways that are familiar to them.
ClosingCenter offers lenders complete flexibility and choice. You can register and close with us, you can close on the fly, and you're able to use your choice of upstream and downstream providers. With our open platform, we're essentially saying we're going to help settlement agents and lenders make more intelligent decisions, while leveraging on all the RON solutions out there, instead of trying to build the best one.
eO: Where do you see the industry moving 12 to 18 months after COVID-19?
KW: If you talk to industry veterans, they'll tell you it's been 25 years of "almost being there". People have been talking about digital for a very long time. But ultimately, for the reasons we've discussed, it's been difficult to realize meaningful movement toward industry-wide adoption.
But now, COVID-19 has jump-started RON approvals. Some states had to initiate emergency RON procedures, bypassing legislative action in the short term. This means that when those emergency decrees are relinquished, they will have to go back and pass through the various state legislations, but I think consumer demand will accelerate the process in many states because it reflects the way consumers are starting to do business. Again, there may be some pullback as these emergency decrees expire, but I think this COVID-19 jumpstart will push contactless and remote eClosings in a permanent way.
eO: What gets you most excited about your role at eOriginal?
KW: What's most exciting for me is that the company is truly customer-centric: we are not building products for product's sake, or technology for technology's sake. It really is about technology as a way to drive business solutions.
And as we learn things from the marketplace, we are empowered to build and share cross-industry innovations, delivering completely new value through new product introductions.
Our product experts can help map out your transition into digital adoption: ask for a demo today.