Alex Tepe is Senior Product Manager at eOriginal. As the product management lead for digital mortgage, Alex is instrumental in designing eClosing and eVault technology used by many of America's leading banks and independent mortgage originators.
He also managed the development of eOriginal's flagship digital mortgage product, ClosingCenter, which delivers a simple and intuitive closing experience for lenders, borrowers and settlement agents.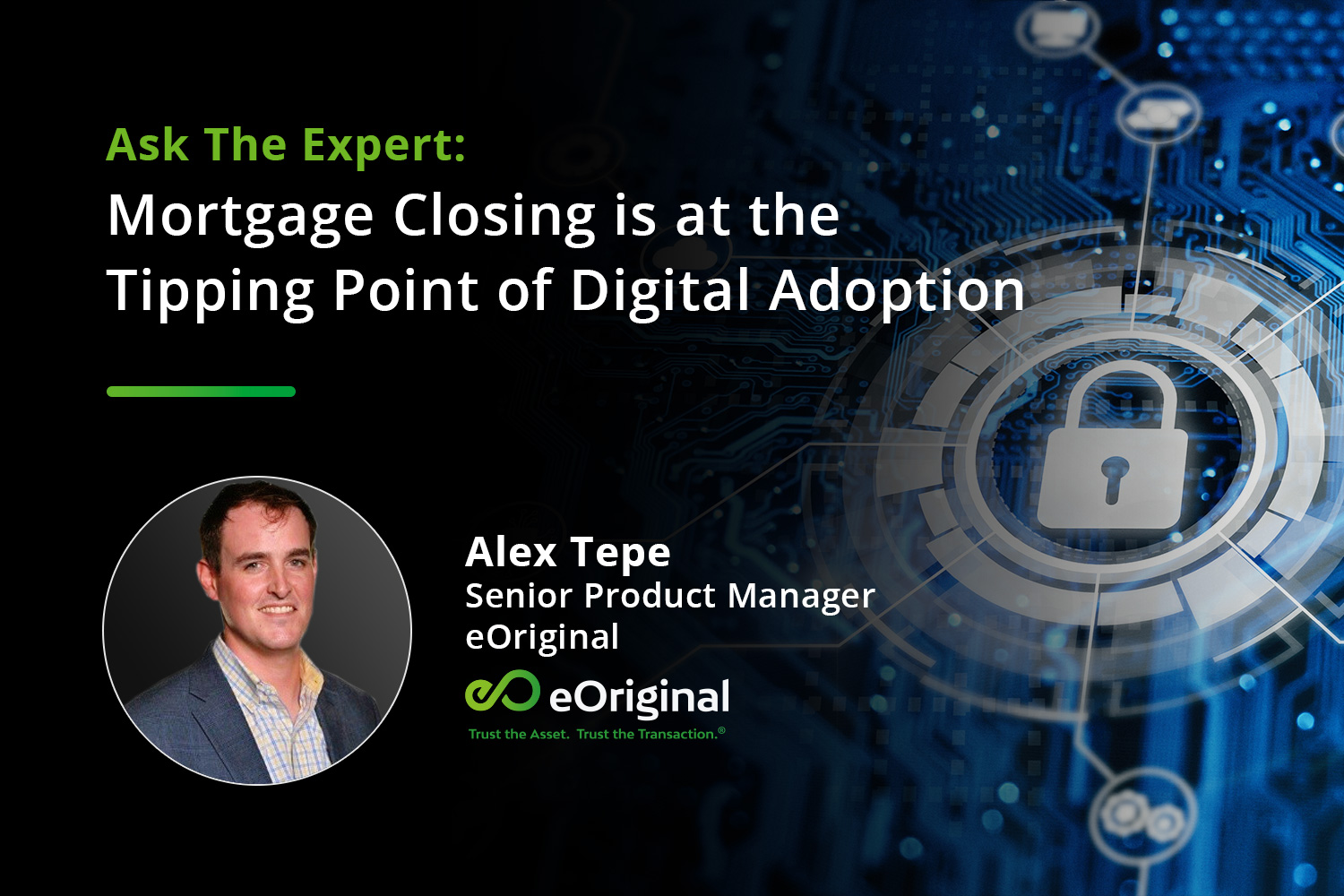 Alex is an active leader in industry bodies working to streamline and standardize digital processes and protocols including his membership to the eMortgage working group, and the eVault/eDoc Interoperability working group at MISMO, among others.
We spoke with Alex to discuss the nuanced history of digital adoption in mortgage, why the future of closings will be contactless and remote, and the joy of building "win-win" solutions for lenders.
eO: Why has mortgage been such a late digital adopter?
AT: Mortgage isn't necessarily a late adopter but has had difficulty finding industry-wide adoption at scale. eOriginal closed the first digital mortgage (ever) in 2000 in Broward County Florida. There were a significant population of SMARTDoc eNotes that were signed electronically before the recession of 2008 and the industry took an unofficial break from eClosing as a priority while businesses focused on recovery and implementing processes to comply with post-crisis regulation. We've reached a point in the last couple of years where eClosing volume has surpassed the peak pre-crisis thanks to evolution in technology, process, and mind-set.
End-to-end mortgage is a complex transaction with a lot of steps and multiple technology providers potentially providing solutions at each step. A lot of these technology providers have been embedded in the ecosystem for a long time, but there is a constant stream of new players coming in because it's a high-cost transaction. So there are lots of things to solve, lots of new players, a few incumbent players, and niche tech players, all vying for the attention of lenders.
The industry also has seen its fair share of less-than-successful solutions, certainly in eClosing. Since the first eClosing in 2000, there have been multiple iterations of what eClosing technology is and should be capable of. Some have tried to solve eClosing with a one size fits all approach while others have targeted an integrated "best of breed" approach. We've seen some of the most successful and scaled eClosing solutions take the latter approach.
This is exactly why eOriginal has turnkey integrations with partners like Black Knight, Wolters Kluwer, Blend, Notarize, Nexsys, NotaryCam, (the list goes on.) Lenders can get everything they need to achieve success and scale in eClosing with integrations to their existing tech stack while providing options to select the best options for niche processes within the space.
eO: Do you see the relationship between mortgage and technology changing?
AT: A couple of things come to mind, namely speed and security. The logic speaks for itself when we talk about speed: if I order dinner using an app, I can get it in 30 minutes instead of the 60 minutes it would take me to drive there, order, and drive back. eClosing provides a similar value: instead of mailing your documents to be signed and sent back, you can do it in a fraction of a second electronically, which also makes that part of the process more secure.
Security also means compliance. Mortgage is a very highly regulated industry. The ability to manage and maintain completely transparent interactions between lenders, borrowers and settlement agents is valuable to everyone. You can fully track the process: when someone signed a document, when documents are sent for review, and even signer identity verification.
eO: What are your thoughts on integration and open-versus closed-platforms?
AT: When I think about open-versus closed-integration, one of the things I think about is a Swiss Army knife. It's interesting to have a corkscrew, a little knife, and all of that in one tool, but it isn't the best at doing any of those things. If I wanted a sharp knife, I wouldn't be going to get my Swiss Army knife. Similarly, there are places that have a one-size-fits-all solution, and that can certainly be attractive from a vendor management perspective. But to deliver the best experience, you need to have access to the best technology and our observation is that there just isn't one provider that can do all things at an A++ level. So, to get the best technology you must integrate, especially when the technology comes from specialized players.
eO: What gets you excited when we talk about how tech can deliver business value to customers, specifically in the context of mortgage closing?
AT: Being able to support someone who has to move cross country because they've lost their job and they need a place to live so they can support their family: mortgage closing is not a luxury – in many cases, it's a necessity. Being able to support that – in a contactless, remote setting, and letting someone move into a house without putting their health at risk – is really powerful.
Bringing all these things into a completely digital process is by far the most exciting thing. Even at the closing table, where everyone is using phones, laptops, and tablets and having no paper involved is also very socially powerful, and I think these are things the market is hearing a little bit differently now, with the focus on more socially conscious decisions at a business level. It is exciting to build and deliver "win-win" products for our customers.
eO: Can you provide a specific example of a recent product release that offers a "win-win" to mortgage lenders?
AT: eOriginal recently released ClosingCenter version 2.2 which gives borrowers the ability to preview documents ahead of time and sign a subset of documents ahead of closing, offering borrowers additional transparency in the process.
On top of Preview and Pre-Close for borrowers, we're also adding integration to two major RON providers. Nexsys and Notarize have been incredible partners and our expanded integration with their platforms is going to allow any remaining unsigned documents (after having gone through the Pre-Close process) to be sent to their systems be signed and notarized completely remotely. In our next few releases, we'll be expanding the menu of available RON providers which will build on the open ecosystem that lenders have access to through eOriginal ClosingCenter.
With both of those things in mind: Worst case – if borrowers are using this Pre-Close feature but you're in a state that doesn't allow eNotary, there are a small subset of paper documents that need to be signed and notarized. Best case – if you're in a state that allows RON, the borrower signs their non-notarized docs in the morning and gets an invitation to execute the notarized documents through RON later that day.
Shrinking that time at the closing table is not only great for the borrower, it also means dollars and cents for a settlement agent because they can only perform a certain number of closings in a single day. If we're looking at ClosingCenter, not only is it free to settlement agents, but now the platform is giving back time (which means money) to settlement agents time for participating in the process digitally. All of this, I think, is really exciting.
eO: What are you most excited about looking at eOriginal and the mortgage industry's projected trajectory over the next two years, and what do you think eOriginal can drive forward?
AT: I do believe in fully remote digital mortgages. I think it's important and making that a reality is exciting. Having an eClosing 'hub' is important to lenders and title settlement agents, because they have the flexibility to get documents from any service provider, data from any LOS or POS, and all the paper, digital and notarized documents will be handled appropriately. At the same time, it can reduce the number of required choices on the front end for lenders, reducing their need to prepare documents differently because of different state requirements. This makes eClosing accessible to more organizations and makes the process even more simplified.
Our product experts can help map out your transition into digital adoption: ask for a demo today.