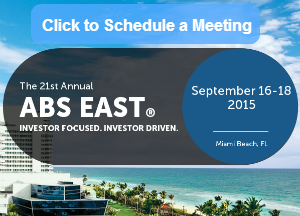 A busy 2015 Fall conference season is quickly approaching and eOriginal is in complete preparation mode. One of the premier events that I'm helping coordinate this September is ABS East, a 4 day event in Miami.
ABS East is a prominent event for the structured finance industry, hosting over 3,500 structured finance professionals annually. Celebrating its 21st year, ABS East has secured its place on the Must-Attend Fall Gathering List for the securitization industry.
Why ABS?
Because eOriginal's software provides secure digital transactions to funding sources, banks and other high risk asset management organizations, the players at this conference will strongly benefit from learning about all that eOriginal can do for them. Plus, traveling to Miami is also a great reason to be excited.
This year I wanted eOriginal to attend ABS EAST in a big way! Not only are we attending this year, but we are sponsoring and exhibiting at the event. Plus, we have exclusive meeting rooms reserved and, to top it off, we're speaking on a panel in the Marketplace Lending 101 track.
We will be out in full force, with 10 eOriginal representatives in attendance, including myself. Not only will we be dispersed through-out the event, but two of us will be in a full demo-ready booth on the showroom floor. Booth visitors can utilize our touch-screen digital demo to learn more about the functionality of eOriginal's digital asset management solution. Plus, anyone who participates in a demo will be entered to win an Apple TV.
Pre-Schedule a Conference Meeting
The team in attendance will be available to answer any questions about our eSignature and digital asset management solution. To ensure you take advantage of all the conference has to offer, we encourage you to pre-plan your trip this month! And, don't forget to add a meeting time with eOriginal to your schedule.
While I've attended many conferences in the past, I am stoked to be going to ABS and Miami. Hope to see you there!