"Digital lending is here to stay. Digital securitization is here to stay. And it's only going to grow." — Brian Madocks, CEO of eOriginal.
When investors, issuers and others gathered in Miami for the 24th Annual ABS East conference this week, the usual deal-making meetings surrounding asset-backed securitization (ABS) was accompanied by a new theme: How do we further digitize the ABS market?
As about 5,000 financial professionals congregated at the Fontainebleau Hotel, there was pronounced increase in discussions surrounding ways in which technology can be applied to improve transparency and data analysis, while achieving greater levels of speed and efficiency.
This question took main stage at ABS East 2018 in the panel discussion: "Tomorrowland is Here Today: What Will the Structured Finance Market Look Like in 2025?" Madocks joined leaders from PwC, Deloitte & Touche, Peer IQ, and others to discuss potential technology applications for the ABS market.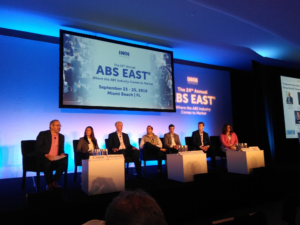 While much of the discussion centered around blockchain, the panel agreed that the distributed ledger technology: 1) needs to catch up to its own hype; 2) will initially focus on data management and validation; and 3) is still two to three years away. Panel moderator Lewis Cohen, partner at DxLaw LLP, even joked that this was the third straight year that ABS East held a panel about future applications of blockchain; at some point the discussion needed to turn to tangible applications.
Madocks shared his view that blockchain may be "late to the party", noting that digitization of the ABS ecosystem is already well underway. He pointed out that the eOriginal asset management platform has supported more than 160 securitizations, including 50 already this year alone. Having supported this number of securitizations—valued at over $50 billion—demonstrates a clear trend and an increased adoption of end-to-end digital platforms for secondary market transactions.
Additionally, Madocks called attention to the trend of enterprise banks being pushed to embrace digitization across the board, including in securitization, by originators who "start digital" and want to "stay digital". "(Originators) are threatening to take their business elsewhere unless the bank offers a digital platform," Madocks said. "It's not about which technology, it is about how we bring the entire (lending) process together, from first touch with the borrower all the way through to the secondary market."
Trust through Technology
Another panel further highlighted digital transformation in ABS. From the Innovation Institute track, "Technological Solutions for Improving Market Transparency," offered a discussion that turned to very practical applications, as well as future innovations.
The panel featured eOriginal Vice President of Customer Services Val Daly, along with Kevin Walsh, Peer IQ's Chief Commercial Officer; Scott Miller, Chief Business Development Officer at T-REX; and moderator Marc Levine, Managing Director at Moody's Analytics.
The speakers recognized the role of existing technologies creating transparency in both data and transactions in the ABS market.
"If we look around the exhibit hall (at ABS East), you will already see the tools and technologies necessary to improve transparency are already available. The true challenge lies with the adoption and interoperability of all parties involved with the transaction," Daly said.
One of the next steps, panelist agreed, is to ensure these technologies can support the ABS ecosystem and connect the networks that comprise the securitization process.
"It seems like that paradigm has changed and there is a concerted effort to 'connect' originators and lenders and allow for online collaboration," Levine said.
Daly noted that those connections are established by selecting technologies that provide value to process, while also benefiting the different players in the ABS process, including originators, issuers, investors, custodians, ratings agencies and legal counsel.
"(To gain trust, technologies) must enable the entire network to agree to the same definition of the asset, its control, and its underlying dataset, giving all parties backwards looking insight into the entire history of the asset and its data," Daly said.
She highlighted that the good news was that such technologies already exist and are being adopted by the ABS market.
While innovations near and far may change the face of the ABS market beyond all recognition by 2025, there is no need to wait for a digital transformation of the secondary markets. Indeed, that transformation is already underway.