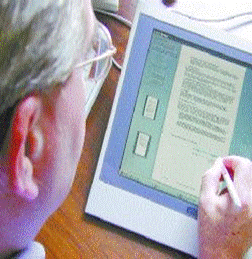 Digital Transaction Management (DTM) is a burgeoning movement across the business world. However, some companies feel hesitant to make the leap to digital.
One of the most common reasons for slow adoption is that businesses are becoming stuck against perceived hurdles. As a greater number of businesses consider the benefits of digitally transforming their processes, the need for education about these misperceptions is growing.
An often ominous question is the concern that a business will spend the time, resources, and money to bring its processes digital and will be met with paper requirements that were not anticipated. These requirements can often vary by county; for example, in an instance where a state may be split on county recorder adoption, requiring a business to accommodate for paper requirements for some of their contracts.
Here's why this should not be a roadblock to your adoption of DTM practices and technology:
1. You Aren't The First, and You Won't Be the Last
While your industry may be slow to adopt, that does not mean your business should follow suit.  There are many industries, such as equipment leasing, vacation ownership/timeshare, security alarm, marketplace lending, solar financing, and vehicle financing who have already taken processes digital.
And businesses are not the only entities who are realizing the benefits; county recorders across the country are as well. For example, within the vacation ownership and development industry, a majority of counties where resort development occurs have transitioned their requirements to allow and accept electronic documents.
2. Know the Difference: Wetting Signature v. Paper
As we have said before, being fully educated on DTM can be a huge barrier to adoption. When you are reviewing the requirements of your county recorder, you should always verify: whether or not they require a wetting signature; and whether their paper requirements are for all documents within the transaction.
If the county recorder requires paper, but not a wetting signature, you will have the capability of doing a Paper Out® Process. When electronic stops being a viable format, eOriginal's Paper Out functionality allows for the conversion of these assets from electronic format to a legally-compliant and enforceable paper document. For more information on the simple, multi-step process, read our blog post on the process.
3. Going Digital Isn't All or Nothing
If your county recorder is requiring a wetting signature for a specific document, don't worry! It is not the end of your digital dreams. While an end-to-end digital process will produce the most benefits, taking a portion of your processes electronic will still provide your business with greater efficiency, cost-savings, audit capability, and, depending on what part of your process is digital, an improved customer experience.
Plus, system integrators understand that every businesses' digital transformation does not have the same requirements, requiring different configurations for transactions to be legally-compliant and enforceable. They can help establish workflows that work for your business, and the paper requirements you may face.